Welcome to the A.P. Fuchs 2019 Holiday Gift Guide.
Holiday Season is now in full swing so here's a list of things that would make great gifts to the A.P. Fuchs fan in your life or anyone who has a thing for superheroes and monsters. While everything I have to offer is available in the Book and Comic Shop (with links to a retailer of your choice), the list below showcases the more unique items from my catalog. All my titles except the second one are available in paperback and eBook.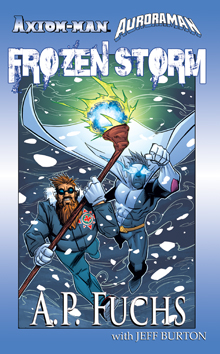 1. A copy of my latest release, Axiom-man/Auroraman: Frozen Storm, written by me but with the story by Auroraman creator Jeff Burton and I. Opposite heroes. Cold weather. Snow monsters. You know? The good stuff. Copies are available here.