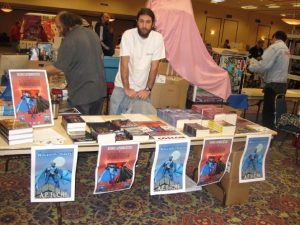 It's coming up soon, but beginning November 1, I will be switching over to broadcast mode for the winter. Pre-programmed content will still air on my social media channels. I'll also be broadcasting from this blog and, of course, there is my weekly newsletter (which you should totally be reading).
In work news:
Progress is being made on the book front, with many titles waiting in the wings to go through the production process before getting into your hands. This was an experiment for me–writing books in bulk–and was a lot of fun. It also meant not releasing anything for a year, but still a good experiment nonetheless. What this means for output in the future, I don't know. I do need to be releasing titles more frequently, however. This blog will also have details on each project as they come out. You'll also learn the names of Secret Projects Nos. 1 and 2 (which are written).
Also upcoming is the Central Canada Comic Con from October 27 to 29 at the RBC Convention Centre here in Winnipeg. This is my last public appearance for the year and, possibly, well into next year or even until 2019. I have some plans and experiments I want to run, but I can't do them if I'm committed to shows and signings. It just makes for too much work, and I'm not as spry as I used to be when I first started out in this business.
I'm looking forward to hunkering down for the winter. I'm looking forward to the quiet. I'm looking forward to working without other things buzzing in the back of my brain.
I'm looking forward to making more books.