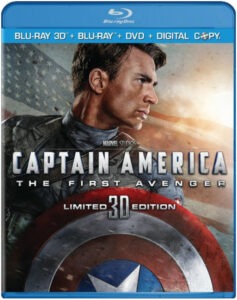 Captain America: The First Avenger (2011)
Written by Christopher Markus and Stephen McFeely
Directed by Joe Johnston
Runtime 124 min.
4 out of 5
It's World War II and the US Army needs to up its game in its war against the villainous Nazis under the command of Adolf Hitler.
Enter Steve Rogers (Chris Evans), a little guy from Brooklyn with all sorts of health problems, but who has possibly the strongest sense of morals and courage than any man on the front line. Unfortunately, due to his fragility, Steve is not allowed to join the American army despite multiple tries. A scientist experimenting in a super soldier serum for the US army notices this and offers him a chance to take part in a dangerous procedure that, if it goes well, will grant Steve superhuman-like abilities and enable him to be an ultimate man, athlete and warrior. Steve accepts and transforms into the world's first super soldier: Captain America.
Meanwhile, the first test subject of the ser