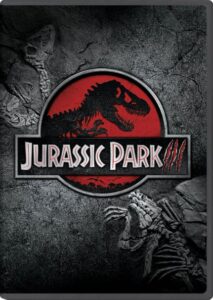 Jurassic Park III (2001)
Written by Peter Buchman, Alexander Payne and Jim Taylor
Directed by Joe Johnston
Runtime 92 min.
3 out of 5
When Erik Kirby goes missing on Isla Sorna (InGen's Site B), his parents, Paul and Amanda, hire Dr. Alan Grant under the pretense of a "tour" in order to find him.
The plane crashes and Alan finds himself back in the same situation he's been trying so hard to forget: being trapped in Jurassic Park.
Sam Neill as Alan Grant is one of my favorite performances ever. There's such an air of seriousness and intensity that Sam brings to the role every time. He can be funny, sure, but his character presentation commands a respect from his fellow actors that you don't see that often in film.
William H. Macy, another favorite of mine, plays Paul Kirby, the bumbling yet-trying-to-be-cool dad. Terrific. He was serious, clumsy, just fantastic. Every film Macy's in has never let me down and this movie delivers a wonderful Macy performance. There's something about the pacing of his line delivery that gets to me, too. It's a guy who's insecure but tries his best to put a confident spin on things no matter what.
The dinosaurs, as always, look real. They're huge, they're scary, they're loud. The only problem with these Jurassic sequels is the dinosaurs aren't new and terrifying anymore. They were in the first movie, not so much now. However, there are a few dino attacks in Jurassic Park 3 that weren't in the others, making the viewing of this film worthwhile.
Michael Jeter (The Green Mile), Laura Dern (Jurassic Park), John Diehl (Pearl Harbor) and Téa Leoni (A League of Their Own) also star.