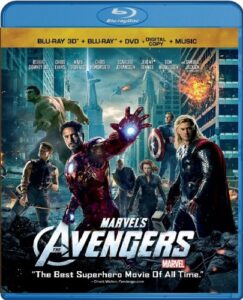 The Avengers (2012)
Written by Joss Whedon
Directed by Joss Whedon
Runtime 143 min.
4 out of 5
When Thor's mischievous brother, Loki, makes a deal with the alien race the Chitauri to help them secure the Tesseract Cube so they can conquer the galaxy, the Earth suddenly falls into great peril. With even the powerful top secret agency S.H.I.E.L.D. having difficulty containing Loki, there is only one call S.H.I.E.L.D. Director Nick Fury can make: Avengers Assemble!
The team is gathered—Captain America, Iron Man, Thor, Hulk, Black Widow, Hawkeye—and they set out to do battle with Loki and his alien cohorts. If they don't overcome their differences and learn to work together as a team, the Earth will fall and Loki will rule the planet.
The Avengers brings together Earth's mightiest heroes to combat a force of evil so great they either stand together or fall together, with the fate of the planet—even the galaxy—hanging in the balance.
The Avengers is a difficult movie to review, more so, give a proper rating to because this movie is very much black and white between its story and its presentation, so that said, I'm going to quickly go over both and you'll see where I'm coming from at the end.
The story: This is a single-plot movie, very much an A-to-B narrative and incredibly simple—too simple. Aliens are coming, we need to stop them so we'll get the Avengers to do it. That's it. From a storytelling perspective, it's too simple and too predictable. Big bad guy, big good guy(s), let's fight, good guys win. The end.
However, if you view The Avengers as an end cap/final act to all the movies leading up to it: Iron Man, Incredible Hulk, Iron Man 2, Thor, Captain America—then you have something that definitely serves its purpose and more or less lets each character shine for the same amount of time. In this case, a simple story works despite, um, the many continuity flaws from the previous movies (i.e. Thor is somehow now able to come to Earth, which renders the ending of Thor's movie moot; Tony Stark called upon to be Iron Man in The Avengers despite being banned from doing so in Iron Man 2; the characters communicating to each other without earpieces or any communication devices. Maybe they're telepathic?).
The presentation: this movie is a nerd's dream come true from start to finish. Assemble your favorite superheroes—of which each were spotlighted in their own movies, almost—put them together and have them go toe-to-toe with a larger-than-life threat that will squash the planet if they don't come through.
From an eye candy perspective, this movie nailed it. Huge battles, lots of explosions, combat action, hammer throwing, Hulk smashing, shield boomeranging, repulsors firing, arrows shooting, girl fists punching—yeah, it has it all.
It's also very important to point out that the casting of Mark Ruffalo as Bruce Banner/Hulk was an amazing choice. I honestly wasn't too thrilled with the news when I first heard it, with Ruffalo being more of a chick-flick romance guy, but he got the role done so well that if there's a spin-off, I hope he gets the job. He's definitely earned it.
Chris Evans as Captain America—a Superman performance, which is good and brought a traditional superhero element to the team. As the running joke was throughout the movie, a little "old-fashioned" was what was needed.
Robert Downey Jr. as Iron Man—do I really need to talk about this? He's the same Tony Stark from the first two Iron Man movies, the only difference being he's mellowed out a bit because, despite his arrogance, he understands life isn't all about him and there are other people out there, too. This bit really comes through in this movie.
Chris Hemsworth as Thor—bold, poetic, commanding, everything his character is supposed to be so kudos to him for carrying on with a great performance from the stand-alone movie.
Jeremy Renner as Hawkeye—I don't know much about the comic character other than he's like Green Arrow, but perhaps with a more military-mind-set, so I can't comment. Renner did sell me on Hawkeye though, but why couldn't they give him that awesome mask? Maybe in the sequel.
Scarlett Johansson as Black Widow—she really comes into her own in this flick because in Iron Man 2, it was more a back-up appearance so we didn't know much about her. I'm glad she got the screen time she deserved and, come on, her fight scenes were fantastic.
Tom Hiddleston as Loki—he's the bad guy you love to hate, the one that, even just looking at him, you want to punch in the face. I appreciated how Loki, to a degree, was a villain to sympathize with because of his exile, but you also get mad at him for being such a jerk about it.
Samuel L. Jackson as Nick Fury—an excellent portrayal of Samuel L. Jackson being Samuel L. Jackson—but under a fictitious alias. Yeah.
The Avengers is a solid good-times-turn-your-brain-off-action-fest that is great for escape and is recommended for that reason. As a spoiler warning, if you want just the action parts, start the movie around thirty minutes in.
Honest assessment is 3.5 out of 5, but because it's the first movie of its kind and because of all the building up to it that has been going on since 2008, I'll give it a 4.