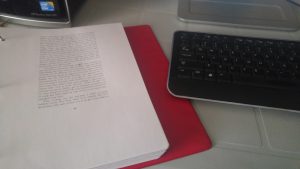 For some reason I've recently been giving a lot of thought to my writing process and I came to the conclusion I don't really have one. At least, not in the conventional sense when someone thinks about how an author writes a book. Usually it involves notions of slaving away over the words, crafting each sentence to perfection, doing rewrite after rewrite, line editing, copy editing, proofing and so forth.
None of that applies to me. Not in that sort of depth, anyway.
My first book, A Stranger Dead, and from what I recall, involved a lot of that: slaving away over each word. Being a first book and first effort, that's how I thought book writing was done. And, hey, if that's how you write your books, by all means, whatever works, right?
But for me, I've been following the same writing process for at least a decade. It's bare-bones simple, and doesn't require a lot of brain power other than the first draft, and even then, I'm not exhausting my mental energy to the point of being brain dead after a writing session.
Though there are exceptions, this is typically how I write a book:
– A title or basic premise comes to me
– I let it stew in the back of my head so my subcons