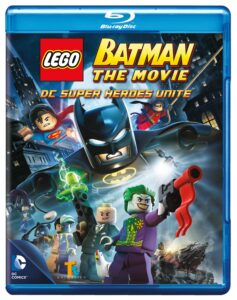 LEGO Batman: The Movie – DC Superheroes Unite! (2013)
Written by David A. Goodman
Directed by Jon Burton
Runtime 71 min.
4.5 out of 5
It's time for the Man of the Year Awards in Gotham City. The contenders? Bruce Wayne and Lex Luthor. The winner? Well, you guessed it: Bruce Wayne. When the Joker crashes the party, Lex sees a potential ally in his fight not only against Superman, but against all superheroes. They forge an uneasy alliance and Lex uses Joker's expertise in chemistry to create not only a gas that would make everyone vote for him in the upcoming Presidential election, but also Kryptonite. In exchange, Lex would provide Joker with a special brick dismantling device that is able to take apart shiny black objects, something Joker's all too familiar with thanks to the Dark Knight.
Meanwhile, Batman and Robin have their hands full with a breakout from Arkham Asylum. Superman shows up to help and eventually the Dynamic Duo and the Man of Steel discover Lex's and Joker's partnership. However, team ups aren't Batman's strong suit but after a little coaxing from Robin, he learns that sometimes you need outside help to come to victory.
Just when Batman and Superman think they've got Joker and Lex right where they want them, the sinister duo unleash a powerful force that will take the entire Justice League of America to stop.
If you've played LEGO Batman 2, then you're familiar with this story. This movie even uses clips from the game, but then fills in the gaps with fresh animation. So while it's kind of a rehash, it's a well-done rehash and, hey, it's LEGO. LEGO animated movies are few and far between and I hope LEGO Batman: The Movie – DC Superheroes Unite is the first in a move to bring more and more brick superheroes to the small screen. Perhaps even to the big one one day.
The animation is crisp, flawless, and well-thought out. The graphics are amazing and convey a plausible world made of LEGO, every detail somehow made from LEGO bricks. No small feat from a design standpoint, creating something so believable yet so . . . LEGO-y.
With a solid story filled with the right amount of action and humor, I'm glad I added LEGO Batman: The Movie to my superhero movie collection. Besides, the exclusive Clark-Kent-changing-into-Superman LEGO minifigure that comes with it is not too shabby either. Glad to have him as part of my Superman figure collection.
LEGO Batman: The Movie – DC Superheroes Unite is recommended for all ages. I loved watching it with my kids and I know you will, too. And if you don't have kids, then it's still worth checking out. Again, LEGO? Batman? Superman? DC superheroes? Yes, please!