Like all writers, I've read countless books over the years. Some were awesome, some so-so, and even the ones that weren't that great I still appreciated for the story even if the writing needed some work. Out of all those books, some have impacted me in different ways both personally and professionally.
Here is a list of 5 books in no particular order that have influenced my writing. I've stuck to fiction for this list instead of any writing how-to book.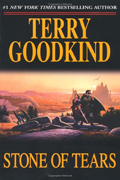 1. Stone of Tears by Terry Goodkind – an ultra long read, but worth every page. The dude knows how to paint pictures in your head with his words and, aside from Stone of Tears being a killer story, it was this word-painting that stuck with me and set the bar for how I paint pictures for the reader in my own work. Not saying I'm anywhere near Terry Goodkind's caliber, but his great description definitely stuck with me over the years.