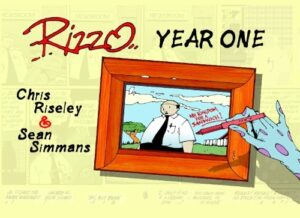 Rizzo: Year One
by Chris Riseley and Sean Simmans
5 out of 5
What do you get when you team up a struggling writer and an artist who wears a dinosaur costume all day long? You get Rizzo, a hilarious collection of the syndicated comic strip.
Rizzo, the character, writes. W. Bill Czolgosz, the character, draws, and these strips follow them on their adventure of trying to make their mark in a world that doesn't appreciate them or their "art."
The gags are brief, about 3-4 panels long, and you find yourself laughing out loud for most of them and laughing on the inside for all of them.
This humor, part simple silliness and part commentary, is smart, witty and, to a degree, "observational" ala Seinfeld.
Rizzo burst onto the scene a few years back and appears in many newspapers across the country.
This book is a "best of" collection, chosen from over 900 strips. (There are about 300 strips in the book.)
Too funny. Read it.