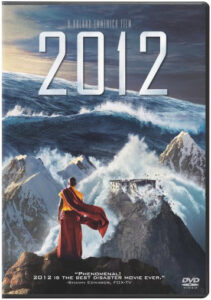 2012
Written by Roland Emmerich and Harald Kloser
Directed by Roland Emmerich
Runtime 158 min.
4.5 out of 5
The Mayans warned us thousands of years ago that 2012 would mark the end of the world as we know it.
They were right.
We just didn't listen.
Jackson Curtis (John Cusack), separated dad and small-time novelist, goes for the ride of his life when him and his family are caught up in the end of the world in the year 2012.
Dr. Satnam Tsurutani (Jimi Mistry) stumbled onto the truth of what was really happening to the Earth back in 2009. He showed his friend and colleague Adrian Helmsley (Chiwetel Ejiofor), who in turn told Carl Anheuser (Oliver Platt), who in tur