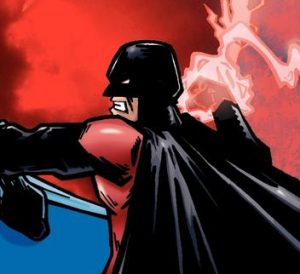 Note: This post was originally published on Jeffrey Allen Davis's blog
The Redsaw Origin and How I Write Supervillains
by
A.P. Fuchs
Disclaimer: The following article is meant for those who have read some or all of The Axiom-man Saga. If you have not read the series, please stop now and consider checking out the series first (http://bit.ly/1oy9MJU) as this article contains spoilers, namely Redsaw's secret identity, which is part of the mystery of the first book.
Like Axiom-man, Redsaw has something of a muddled past. I'm talking about his real life origin, not his story one. However, Redsaw didn't really come together until writing Axiom-man. Until that point, he was more an idea that never materialized in the mental fantasy I had going which eventually birthed The Axiom-man Saga we know today. All I knew about my overall fantasy was there were two cosmic beings at war. One that represented Good (known as the messenger in the saga), and one that represented Evil (known as the master). How these cosmic beings work is they each have champions on multiple planets throughout the universe, one guy stepping forward for them and duking it out on these planets while these two cosmic beings fight it out elsewhere. Usually, the messenger only puts his man in place once the master strikes an unsuspecting world. On Earth, the messenger's champion is Axiom-man so, you guessed it, the master's main man is Redsaw. What's interesting to note is Axiom-man was put in place shortly before Redsaw's arrival, a pre-emptive move on the messenger's part and for reasons revealed in the series.
Redsaw is the main supervillain of The Axiom-man Saga.
That should bring you enough up to speed on who's who in my superhero universe.
When it came to creating Redsaw, other than knowing he had to be the bad guy, he needed to be more than just the bad guy. The first thing I decided was it was imperative he was more powerful than Axiom-man, first and foremost in his superpowers—which are similar but stronger—and secondly as his human alter ego.
In costume, Redsaw can fly twice as fast, is twice as strong, and the energy beams he shoots from his hands do twice the damage.
Out of costume, Oscar Owen is rich, well-known, and utterly confident, whereas Gabriel Garrison (Axiom-man) struggles with money, is a nobody, and has self-esteem issues.
But that's just the superficial stuff.
Even the name "Redsaw" is superficial in that I needed a cool name for a villain and "red" typically represents evil and "saw" was named after a sawblade, a dangerous weapon if used to kill somebody. The jagged lines on Redsaw's red and black costume represent his own jaggedness and danger—again, the sawblade thing.
Going deeper, however, I didn't want a bad guy who was the bad guy simply because he was the bad guy. In other words, I didn't want a bad guy being bad for bad's sake. There needed to be a reason, and the best reason for any villain in literature or film is the one that says they're the