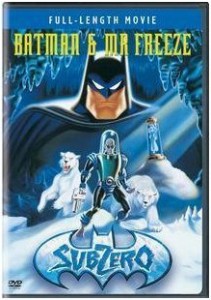 Batman and Mr. Freeze: SubZero (1998)
Written by Boyd Kirkland and Randy Rogel
Directed by Boyd Kirkland
Runtime 70 min.
4 out of 5
In an effort to save his dying wife, Nora, Victor Fries (aka Mr. Freeze) kidnaps Barbara Gordon, Commissioner Gordon's daughter because his wife needs an organ transplant and Barbara possesses the same rare blood type as his ailing wife. Batman and Robin are quickly hot on his tail and soon it's a game of cat and mouse between the Dynamic Duo and Mr. Freeze as our heroes seek to find Barbara before it's too late and she falls victim to Mr. Freeze's evil plan.
After the amazing thrill that was Batman: Mask of the Phantasm, and when I heard they were making another Batman animated movie, I was pumped. Mask of the Phantasm was insanely good and since SubZero was to be done in the same style by the same people, my expectations were high. While not as good as Phantasm, SubZero is still a solid flick. What makes it cool is it's a team-up movie because Batman's joined by