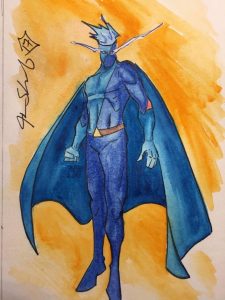 Update on the Axiom-man/Auroraman: Frozen Storm Kickstarter:
Jeff Burton and I are amazed at how much support this project has received. Not only are we closing in on a third funded, but the indie superhero community is behind us in helping get not just the Frozen Storm novel out, but also Auroraman No. 1 (which features a mini-comic at the end that leads into Frozen Storm). We want to thank each and every one of you who has contributed in bringing these projects to life in some way, whether that's through pledging or social media shares or spreading the word through some other means.
Jeff and I both believe it's important to bring more Canadian superhero adventures to readers, and doing this Kickstarter is a way in which to accomplish that. As of this writing, there are 26 days left to go. Please take a moment and check out the Kickstarter page for the awesome rewards and tiers this campaign has to offer. Please also consider supporting these projects. Making comics and books is an expensive endeavor and we want to make sure all those we have on board creating the comic and book get properly compensated for their time and effort.
Thank you again to everyone who's gotten behind us on this. You're in for a super treat once the rewards start shipping because there's not only the exciting comic and book, but original art, toys, collectibles, and more.
See you on the Prairies.