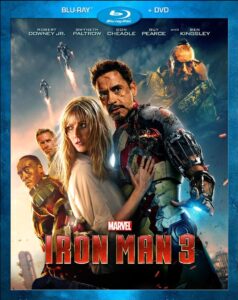 Iron Man 3 (2013)
Written by Drew Pearce and Shane Black
Directed by Shane Black
Runtime 130 min.
3.5 out of 5
An evil mastermind terrorist known as the Mandarin (Ben Kingsley) is wreaking havoc via a rash of bombings, holding the world in his grip. Iron Man (Robert Downey Jr.) gets on the case and discovers the bombings are initiated by people exposed to the Extremis program, something Stark Industries could've had ties to a long time ago, but chose not to. Turns out those Tony Stark knew back then are neck-deep involved with what's going on now, have re-entered his life, and are making things complicated.
While trying to pinpoint the location of the Mandarin, Iron Man aka Tony is also dealing with the aftermath of the Chitauri invasion of New York in The Avengers. Having trouble sleeping, he