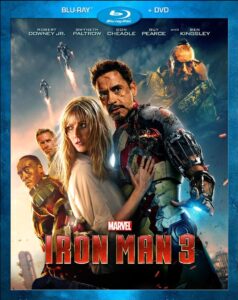 Iron Man 3 (2013)
Written by Drew Pearce and Shane Black
Directed by Shane Black
Runtime 130 min.
3.5 out of 5
An evil mastermind terrorist known as the Mandarin (Ben Kingsley) is wreaking havoc via a rash of bombings, holding the world in his grip. Iron Man (Robert Downey Jr.) gets on the case and discovers the bombings are initiated by people exposed to the Extremis program, something Stark Industries could've had ties to a long time ago, but chose not to. Turns out those Tony Stark knew back then are neck-deep involved with what's going on now, have re-entered his life, and are making things complicated.
While trying to pinpoint the location of the Mandarin, Iron Man aka Tony is also dealing with the aftermath of the Chitauri invasion of New York in The Avengers. Having trouble sleeping, he's been spending all his time constructing various Iron Man armors to help himself cope. This brings tension to his relationship with Pepper Potts (Gwyneth Paltrow), who he's now living with and is dedicated to.
Upon discovering the location of the Mandarin and his true identity, Iron Man and his almost-sidekick the Iron Patriot aka War Machine aka Col. James "Rhodey" Rhodes (Don Cheadle) head up against a battalion of Extremis-infected warriors and must pull out all the stops to put an end to their reign of terror. The problem is these Extremis soldiers are so powerful that victory doesn't seem likely.
Can Iron Man prevail against an army as strong as he is?
I'm not sure what to make of this movie. Sure, it was entertaining and the storyline was fine. I like the idea of making it a direct follow up to The Avengers, and showing how Tony Stark's world—never mind the rest of the world—had been affected by the Chitauri invasion and the presence of the other Avengers.
This flick was loaded with solid action, tough bad guys, cool tech, guns and everything else that makes an Iron Man movie a lot of fun. I just wasn't sold on the presentation. This might be harsh, but this flick came off as the Batman Forever of the Iron Man movies. I'm all for humor in even the most serious of movies, but it seemed the jokes were either too forced or too slapstick to make me take this flick seriously. And that's the secret with superhero movies: they need to take themselves seriously—even if they're meant to be a comedy—otherwise they'll never work. There was an awful lot of getting in and out of the Iron Man suits in this film, both by Tony and Rhodey, never mind Pepper getting a shot at wearing it, the President, the Extremis guy—there were so many suit changes that the novelty of watching someone don the Iron Man armor was quickly spent after the first three times.
This film was not directed by Jon Favreau, which might have had something to do with it. Just seems this movie was weighed down with not enough Iron Man and a storyline—which was solid in and of itself—that moved slowly. I realize Tony's aftermath and post-traumatic stress from The Avengers was the focus, but the same goal could've been accomplished had there been more Iron Man. I don't necessarily mean more action—as action-filled movies that are nothing but explosions start to finish get boring after a while—but perhaps him having a love/hate relationship with the suit because being in it nearly killed him at the end of The Avengers, or maybe take the robo-injections to summon the suit to a new level because he's trying to make himself super to be on par with guys like Captain America or Thor and have him deal with that?
The extra scene at the end of the credits with Dr. Bruce Banner (Mark Ruffalo) picked up on the bromance from The Avengers. A nice touch. Didn't move the Marvel Cinematic Universe forward in any way, but was nice nevertheless.
If you're a Marvel movie completist, then by all means, check it out. Likewise, pick up the Blu-ray when it comes out to co