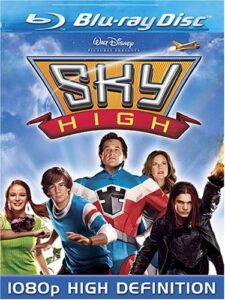 Sky High (2005)
Written by Paul Hernandez, Bob Schooley and Mark McCorkle
Directed by Mike Mitchell
Runtime 100 min.
4 out of 5
Will Stronghold's parents are the world's greatest superheroes—the Commander and Jetstream—and his folks are hoping that by him enlisting in the super high school, Sky High, he'll achieve his full potential and become a great hero himself. Unfortunately, Will doesn't have any superpowers and must try and make his way out from under his parents' super shadows and through the trials and tortures of a super high school. When one of the Commander's old enemies, Royal Pain, surfaces, Will must find it in himself to be the man he was destined to be, and not just become a hero, but a superhero.
Seriously, Kurt Russell as a superhero? Yes. That is a good idea and I'm dead serious. He's got the looks, the charm and the coolness factor to pull it off. Turning him into a Superman rip-off makes it even more perfect so I'm totally down with Kurt Russell as the Commander. Throw in Kelly Preston as his wife and fellow super crime fighter Jetstream and you've got a match made in super Heaven.
This movie is a love letter to the genre, featuring all the things that make superheroes great. As said, you got the Superman-type hero in the Commander, the beautiful heroine ala Wonder Woman in Jetstream, and loads of students at Sky High exhibiting all the classic powers throughout the movie, everything from flight to heat vision, to freezing people to superstrength, to shape shifting to superspeed—the list just keeps going. Tell the story from the point-of-view of the Commander and Jetstream's son, Will (Michael Angarano), and you have the excuse to be on the outside looking in while also taking part in the adventure yourself.
It's a simple story, but a good story and, as said, was a love letter to the genre and the tale used to share that letter with viewers was a good one to do it with.
I've also made it no secret in my other reviews that I'm a fan of superhero comedies. Usually, they're done pretty well and Sky High is no exception. By making these superhero comedies and pulling it off, it goes to show how versatile the superhero genre really is. People generally view superheroes as so one-dimensional—sometimes two-dimensional—and that's about it. Doing an assortment of super flicks breaks that perception and as a diehard fan of the genre, I'm happy these other variations on men and women in tights are created.
This movie has fantastic cameos by the likes of Lynda Carter (TV's Wonder Woman), Bruce Campbell (Evil's Dead's Ash—who is kind of a superhero on his own, in a way; I mean, Ash has a chainsaw hand for crying out loud!)—Patrick Warburton as the voice of Royal Pain (Patrick was TV's the Tick) and a bunch of other familiar faces. Nice.
Sky High is complete family fun, kid-friendly and is highly recommended for those looking to expand their superhero-movies-I've-watched repertoire.
Go see it. Buy it, borrow it, rent it—just see it. It's good times.