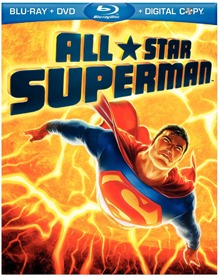 All-Star Superman (2011)
Written by Dwayne McDuffie
Directed by Sam Liu
Runtime 76 min.
5 out of 5
The Man of Steel is dying after receiving an extreme dose of solar radiation. Trying to live out his last days and wrap up all loose ends, he spends it with Lois and gives her a special serum that grants her superpowers for twenty-four hours. When unexpected twists and turns arise, the two must save Metropolis together. Meanwhile, Lex Luthor has plans of his own and when he gets his hands on the serum that granted Lois superpowers, he becomes as powerful as Superman.
Can the Last Son of Krypton stop his arch nemesis while also saving the Earth from a damaged sun before he perishes?
When I think of classic Superman, I think of this story. The reason is because this story involves all of the classic elements of Superman lore, everything from the basics like Lois Lane and Lex Luthor, all the way to the Fortress of Solitude, the bottle city of Kandor, a full array of superpowers—and in the case of this story, some new ones, which reminds me of the "bonus" powers portrayed in Superman IV (though they're not silly in this one like they were in that flick)—the Phantom Zone, Superman using not only his super brawn but also his super brains, Lois having superpowers (which has happened quite a lot in Supes's history—she's got a cool costume in this, by the way), and a ton more.
Based on the graphic novel by Grant Morrison and Frank Quitely, this flick asks the hard questions about Superman's mortality, if such a thing is possible, and if it is possible, then how would that possibly play out? Unlike Superman's death when the Man of Steel went up against Doomsday, this story isn't about a giant slugfest, but about a slow death caused by the very thing that gives Superman his powers: the sun. It's about him coming to terms with his own mortality and setting things in order before his final moment arrives.
One of the great things about these direct-to-DVD super flicks from DC is they're all stand-alone features based on a graphic novel and by being so, they also carry with it the same art style from the book. In this case, it's Frank Quitely's art animated. I admit it took a while for his art to grow on me. Perhaps because it's so simple and clean, yet by being that way, he's able to create some pretty realistic-looking superheroes. Seeing it animated like we do in this flick brings Superman et al. to life and makes this comic book fan very happy.
Out of all the Superman adaptations done thus far, All-Star Superman is one of the greats and gets high props for being an awesome animated flick with a great cast, great art direction, a great story and, most importantly, having the greatest hero of them all, one who's definitely an all-star: Superman.
Highly recommended.