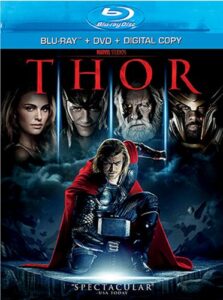 Thor (2011)
Written by Ashley Edward Miller, Zack Stentz and Don Payne
Directed by Kenneth Branagh
Runtime 115 min.
5 out of 5
Long ago Odin (Anthony Hopkins) led Asgard to victory against the Jotunheim Frost Giants and captured the source of their power, the Casket of Ancient Warriors. Over a thousand years later, Odin is about to crown his son, Thor (Chris Hemsworth), as King of Asgard, but the coronation ceremony is interrupted when the Front Giants find a way into the weapons vault and try to steal back the Casket. Fortunately, it wasn't stolen as the giants fell before they could take it. Wanting to make an example of them, Thor and some of his loyal companions travel to Jotunheim against his father's wishes and start a war with the giants. Odin rescues them but not without grave consequences: upon returning to Asgard, Thor is banished to Earth for his actions, powerless and alone. Only his hammer, Mjolnir, is sent with him, but now with an enchantment that only the worthy can wield it—and Thor is not.
On Earth, Thor meets Jane Foster (Natalie Portman), an astrophysicist who was there along with her mentor, Dr. Erik Selvig, the night Thor came through the wormhole.
Meanwhile, Thor's brother, Loki (Tom Hiddleston), finds out that his own heritage is not what he was told and, upon finding out his true origin, seeks to ensure his brother never returns to Asgard so he could become the king instead.
While on Earth, Thor must learn what it means to be humble, care for others, and thus earn his place as the proper king of Asgard, all in time to stop his brother from leading the Frost Giants into Asgard and destroying Odin's kingdom.
This flick was Marvel's fourth film in its Phase One plan leading up to The Avengers.
I love this movie. It's down-to-earth, fun, has a good story and enough action to keep things exciting but not so much that it bogs down the entire movie.
Up until this flick, Thor was basically an unknown character to the movie-going public, and Thor does its job on giving the character a rich history, making you care about him, and making you cheer him on on his path to redemption.
The scenes on Asgard were breathtaking—heavenly, even—the size and scope of the city enough to inspire awe. The stuff on Earth, well, it's just the stuff on Earth and this is the first I've personally seen the realms of fantasy and reality merge so well. There was a bit of that in the Harry Potter movies, but those kids never went to another world where it's fantasy-type stuff 24/7.
The special effects were awesome and, to me, were a kind of unintentional preview to an exciting live action Superman movie, with Thor being the one in the red cape this time. The flying sequences were powerful, the strength, the lightning blasts—all good stuff, and with The Avengers on the horizon, the climatic fight scene between Thor and the Destroyer was well-paced and well done, saving Thor's best for the ensemble film to come a year later.
The relationship between Thor and Loki was done especially well because most siblings feel that their parents favor one above the other. There's always going to be some sibling rivalry, jealousy and competitiveness. This flick nailed that, in my opinion, especially on Loki's side of things. I mean, at times you can't help but feel bad for the guy and sympathize with his motives (that's the mark of a good villain, by the way).
Thor is a sweet introduction to the character, sets him up really well for The Avengers, and this reviewer can't wait to check out Thor: The Dark World and see how the Mighty Thor grows as a hero and as Asgard's king.