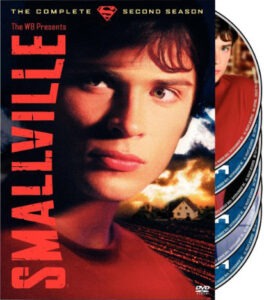 Smallville, Season 2 (2002 – 2003)
5 out of 5
More powers emerge as Clark gets ever closer to his destiny as the Man of Steel.
This season made you know the show was here to stay and showed a slight, more mature change in the writing style (if memory serves), despite the show still being kind of like The Twilight Zone meets Superman.
Regardless, throwing into the mix someone outside the Kent family permanently knowing Clark's secret—well, things got a little more complicated for our favorite farmboy as he's now got the concern of "what if so-and-so spills the beans?"
What really made this season, of course, was the guest appearance by Christopher Reeve, who everyone in my generation knows as THE Superman, bar none. His role as Dr. Swann, who shows Clark his Kryptonian heritage, really brought a passing-of-the-torch moment to the show, cementing in Superman fans' heads that Tom Welling was indeed our new boy and—if anyone else out there is like me—makes you itch for Welling to one day put on the tights in a feature film (or seven).
I love the mythology episodes in this series and Season Two had enough to remind you that, yes, you were watching Superman and not just a show about a young man with developing superpowers.
Go watch this, then check out Season Three right after it. You know what? Go watch 'em all then follow Season Nine week-to-week like the rest of us. You won't be sorry.