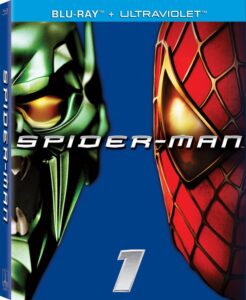 Spider-Man (2002)
Written by David Koepp
Directed by Sam Raimi
Runtime 121 min.
4 out of 5
This flick was decades in the making. So many legal setbacks forced Spider-Man to bounce from rights holder to rights holder before finally finding a place with Sony to deliver the goods.
The hype surrounding this movie was astounding. I remember getting my copy of the soundtrack before the movie came out, and not just that, but also a copy of the "Hero" single by Nickelback as well. Seeing Spidey swinging over a golden-bathed New York on its cover got me even more stoked for this film.
And so, opening night, I went with my dad to check the movie out, my heart pounding with excitement, the previews before the movie taking excruciatingly long.
Peter Parker (Tobey Maguire), geek extraordinaire, gets bitten by a radioactive "super spider" while on a class fieldtrip as he tries to get a picture for the school paper of next-door-neighbour-slash-love-of-his-life Mary Jane Watson (Kirsten Dunst). Following a bout of sickness, Peter wakes up the next morning no longer a skinny geek but instead buff and tough, wondering what happened to him. Adding to the weirdness, he's suddenly able to do things he wasn't able to do before: no need for glasses; lots of energy; fantastic agility; amazing strength; sticks to walls; shoots sticky white web-things out of his wrists; can sense bad things before they happen. So, like any good teenager with superpowers, he uses them to impress the girl of his dreams, in his case, taking on a spider-like persona in a wrestling match to win some big money to buy a car. While on the way there, he fights with his uncle, Ben, and leaves in a huff, only to later find out the burglar he let get away—who had stolen from the wrestling folks who didn't pay Peter what he was worth—killed his uncle in an effort to swipe a getaway car.
Also going on, Norman Osborne (Willem Dafoe) is having trouble with his company and so, in a fit to prove to the military his superhuman formula works so he can sell it to them, he tries it on himself . . . but with dire side effects: the creation of an alternate personality which is eventually dubbed "the Green Goblin." When things go sour for the company, the board of directors votes him out and Norman goes into full villain mode to exact his revenge.
Across the city, Peter has learned that with great power comes great responsibility and so avenges his uncle's death by using his new spider-like powers for good and becomes the Amazing Spider-Man.
It's hero versus villain, Spider-Man versus the Green Goblin, in this superheroic slugfest/love story/coming-of-age movie that made the wait for this flick well worth it.
To be honest, however, the crazy overhype of this movie did put a damper on it for me when I first saw it. Straight up: when I left the theatre opening night I left disappointed. Not that I thought it was awful, not by any means, it was just there was this lingering "Is that it?" feeling that hung over me as I made my way back to the car.
If anything, Spider-Man is definitely an origin movie, something to set the stage for more to come, giving a rich backstory and atmosphere not just to Peter Parker's world, but to each of the supporting characters, even J. Jonah Jameson (who J.K. Simmons played brilliantly, by the way).
The effects were top notch save for a couple moments where you clearly saw that the Peter that was swinging and jumping from rooftop to rooftop was animated. Speaking of the swinging, when Spidey took you up and down through the deep concrete chasms of New York—man, you felt like you were there, swinging along with him. I heard they even developed a "spider-cam" for this movie. Cool. And that heartbreaking scene at the end where Peter turns down MJ? My heart bled for the guy.
Do I stand by Spider-Man? Absolutely. I saw it again in the theatre, going back with the mindset of "seeing it f