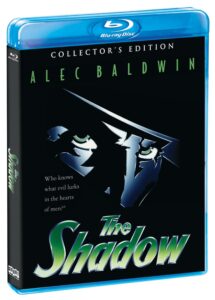 The Shadow (1994)
Written by David Koepp
Directed by Russell Mulcahy
Runtime 108 min.
3.5 out of 5
An avenging force for good and a terror of the criminal underworld, the Shadow operates in New York after dark, but when Shiwan Khan—last descendent of Genghis Khan—comes to the city and plans on world domination, the Shadow must defend the Big Apple from him. When the Shadow refuses to join forces with Khan, the two battle it out with the fate of the city hanging in the balance.
This flick was my first exposure to the pulp superhero when I was younger. With loads of shadows, gothic ambience, an exciting soundtrack and a hero with the biggest cape I'd ever seen, the Shadow quickly became one of my favorites growing up. I mean, he was kind of like Batman, but had a superpower—he could get into your mind, control you, make you see things that weren't there and thus become a "shadow."
Alec Baldwin as Lamont Cranston totally worked. He had the cool rough voice, the playboy debonair down to a T, and had an air of mystery about him that suited the character well. Good stuff.
Action-wise, no complaints. Nothing over-the-top or extremely spectacular, but enough to get the job done. I will say those shots of the Shadow materializing and dematerializing out of view as he fights is especially cool and spooky. I mean, how do you fight what you can't see?
The plotline was well thought out, especially because you're dealing with a hero and villain with mental powers, which isn't always easy to show people. It all takes place in the head, after all, so depicting the manifestation of these mental powers was well done.
This movie really had that old radio drama feel to it, which I'm sure was something the filmmakers were going for as The Shadow used to be a radio drama back in the day.
Some recognizable names in this flick, too: Sir Ian McKellen, Peter Boyle, Tim Curry.
The Shadow is an excellent foray into the "realistic fantastic" and I'd recommend it to anyone looking for pulpy heroic goodness.