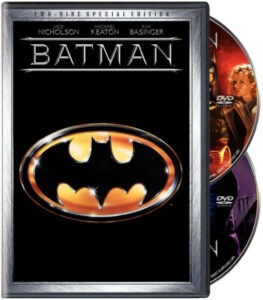 Batman (1989)
Written by Sam Hamm and Warren Skaaren
Directed by Tim Burton
Runtime 126 min.
4 out of 5
There are rumors of a six-foot bat in Gotham City. Whispers. Suggestions. Nothing concrete. But all that changes after the Batman confronts Carl Grissom's men at Axis Chemicals and Grissom's top hood, Jack Napier, gets dropped into a vat of chemicals, transforming him into the maniacal Joker. Discovering he had been set up by his boss to take the fall at Axis, Joker takes over Grissom's operation, in turn allowing him to try and take over Gotham City itself, with only the Dark Knight to stop him.
This was the film that gave us the "movie Batman" we know today: dark and armored. If it wasn't for director Tim Burton's gothic and grim vision of crime-ridden Gotham City and its brooding protector, I suspect the edgy superhero movies of today wouldn't exist.
Michael Keaton takes on the title role as billionaire playboy Bruce Wayne and his rubber-clad alter ego Batman, delivering one of the greatest Batman performances that many, at the time, hadn't expected from "Mr. Mom." And after his memorable line during the opening rooftop scene, "I'm Batman," from that moment on he had you sold that his version of the Dark Knight meant business and quenches any lingering thought that Batman, thanks to the 1960s TV series, is a campy superhero.
Stealing the stage is Jack Nicholson as the Joker. Basically take the Jack from One Flew Over the Cuckoo's Nest and crank it up to a hundred and you have the Joker. Nicholson does a brilliant job of blending the serious and twisted Joker while also playing the crazy, laughing, psycho killer. I'm sure when Batman: The Animated Series came along, Nicholson's Joker was the template for Mark Hamill's performance when he voiced the character. Awesome.
Danny Elfman's haunting and lonely score only adds to the movie's eeriness.
My only problem with the film was there wasn't enough Batman. I remember that bothering me as a kid. Batman shows up all of four times in the film, the first being something, like, only for a minute. Each subsequent time gets progressively longer, thankfully.
Bold, atmospheric and downright fun, Batman is one for the ages. It was where the modern dark superhero movie started.