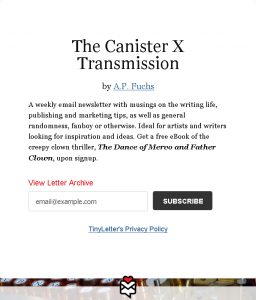 If I had an atomic clock that tracked via weeks, that is.
In two weeks, The Canister X Transmission clock strikes midnight and Year Two of my author newsletter is complete. That will make it 104 weeks without a break, the newsletter having gone out every Saturday. On occasion it went out Fridays.
This Saturday, Issue 103 hits inboxes and I'd like to invite you to join all the others who'll receive it. You also get a free e-novelette out of the deal: The Dance of Mervo and Father Clown, a creepy clown thriller.
Please use the box on the right to subscribe. Only takes a second.
Also note Issue 104 will be a double issue to celebrate the end of Year Two and you won't want to miss out.
Year Three will begin in Issue 105.
Thanks.