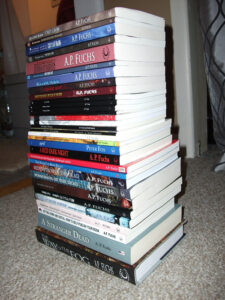 Note: This post was originally published on Jeffrey Allen Davis's blog
Take Up Your Pen Daily and Follow Me
by
A.P. Fuchs
There are two kinds of writers when it comes to the Christian camp: those who are Christian authors and those who are authors that are Christian. The former is the writer who deliberately writes Christian fiction, stories with a Christian message and often with Christian characters. The latter is the writer who writes stories from a Christian worldview but doesn't overtly share their faith via the stories they tell.
I'm in the latter camp, though I have ventured into the first. The reason I'm in the latter is because—just the way my writing career started and has gone—my story ideas tend to fall in the secular category in terms of concept and execution as opposed to me sitting down and purposefully writing a story with a Christian message.
Science fiction, fantasy, horror, superheroes—these are my genres. I'm a huge nerd and always have been. And while true there is such a thing as Christian speculative fiction, my characters tend to be your secular every-man instead of hardcore believers. I have written obvious Christian characters in the past, but doing so brings up a problem because if indeed a truly born-again Christian writer is going to write a truly born-again Christian character, he/she knows they need to be accurate in their portrayal of what a Christian really is. Simply writing a religious character, though that can have its merits, is a disservice from the Christian worldview because our aim is to convey truth as it is, not what man has made it out to be.
In my work, I tend to provide Christian ideals via my secular characters while also showcasing their flaws and even, in some cases, their lack of religious conviction. Things like hope, love, perseverance, self-discipline and so on—items most of humanity agrees are good things, though all have root in Christian-Judeo teaching—are prevalent in my characters. I've found that if I make a truly Christian character, it tends to, at this stage in my career, be a stifle on showing a character's humanity. To clarify, in Christian circles we are well aware that we all have faults big and small, but to the outside world, the image of a Christian is one who is righteous ninety-nine percent of the time. If that person screws up while preaching righteousness, then suddenly they're a hypocrite and the reader has lost all faith in them. We see this in real life almost daily. I find it's better given my particular stories to have characters with Christian traits as opposed to being outright religious.
That's not to say Christian characters can't be well done, but on the whole, most of the time the Christian author is preaching to the choir and, well, have fun trying to interest a secular person into reading your stuff. No one likes being preached to, even Christians in some cases.
However, my personal Christian sensibilities have informed my fiction starting late 2005 and onward. While there were glimpses of it before, in terms of story choices and presentation, there's a certain code of conduct I have to follow and I believe these fall into three main areas: language, sex and violence.
On language: Some of my very early work had a lot of cursing. Just where I was at at the time. As I continued writing and my heart changed, choice words were removed from my output and instead I found ways to not use bad words. Sometimes a simple, "He swore," is enough. Other times I challenged myself to write around cursing as, to me, cussing in writing is lazy writing. I'm sure we can debate this but it seems it takes more creativity to come up with other ways to display disgust instead of four-letter words. I'm not talking about using lame soft words like "darnnit" and "oh fudge." I'm talking about showing a character's anger or disgust at a situation via their actions and accompanying phrases via creative writing instead of just throwing in a swear word. True, people in real life cuss all the time and, for the secular reader, such language doesn't offend them. I get that from a let's-go-for-realism point-of-view, but I can't see how an author claiming to be Christian can include choice phrases and then preach righteousness off the page.
Interestingly, I also have a flipside argument that is pro language in books, even from Christian writers. Before you call me a heretic, here me out. You have to ask yourself, what is a swear word? Why are some words dirtier than others? If you look at cursing over the course of human history, it's gone through a lot of iterations. Long ago, instead of telling someone to blank-off, you'd tell them things like, "I hope you die a thousand deaths" or "May darkness be upon your family." That was cursing and/or the swear phrases of the time. Of course, spiritually, such phrases are indeed cursing but walking down the street today, if you said that to someone, they'd probably look at you and go, "What?" So it seems that the reason cursing is a no-no amongst Christians is because it displays the heart-motive behind the words used. Frankly, if I told you to screw off, that's the same as me telling you to F-off because in my heart I mean it the same way. If I stub my toe and yell out something dumb like "Cow patties" in anger, that's the same as saying the other word. Again, it's about the heart.
For my own conviction, if I'm doing something around the house and tell someone I have a pile of blank to clean up, I don't mean such a word in a malicious way nor is it directed at anyone, therefore I'm in the clear.
But, again, there are certain expectations of the Christian from a worldly standpoint and so it's best to refrain from swearing in fiction.
On sex: From 2005 onward, there's been no sex in my books. At most, it is implied (i.e. "They went to the bedroom"), but never graphically detailed. Sex in and of itself is a beautiful thing ordained by God for both procreation and recreation. God is pro sex. However, we humans have twisted and turned it into something else and, worse, have made it a source of entertainment in various mediums. The reason why sex as entertainment is out of bounds is because it incites lust, whether overtly like porn or a little less so via fiction. Is writing about sex wrong in and of itself? No. If someone asked me to give them an idea of what a sex session looked like and wanted me to write it and their motive was purely for education, I'd have no trouble with that. But, if I knew they'd use it as a source of lustful imaginings, then there's an issue. It's not so much lusting after fictional characters being wrong—I mean, they're not real so technically you've lusted after nobody thereby haven't violated Jesus's command to not look another with lust. But, the danger is it can warp your view of sex and/or sexualize people you see walking down the street thereby putting you in a compromised position. And it's for that reason I abstain from graphic sex in my books.
It's kind of like asking is it appropriate for Christian artists to go to life drawing classes with nude models? My answer is it's just fine provided lust doesn't enter the equation. The human body is a beautiful thing and was made in God's image. It's a work of art. Having been in life drawing classes myself, I can tell you, lust doesn't enter the mind because after a couple minutes, the naked person standing in front of you is viewed as no more than a teapot or lamp. That's not to say I view them as objects, but I'm more focused on getting the curves and anatomy right that I'm not even thinking sexual thoughts. But, once more, if lust entered the picture, then it's time to pack up my sketchpad and leave.
On violence: I struggle in this area. I'm not sure how much is too much and how much is not enough, from a fiction standpoint. After all, every book needs conflict and sometimes that conflict gets violent. Should I show it realistically? Should I skimp over the details? I'm torn. Biblically speaking, Scripture is extremely violent but it never delves into detail. It just says what happened. I've read Christian books that handled violence the same way. They broke the rule of show-don't-tell and quickly told the reader so-and-so was in a fight or got shot and that's it.
Upon reflection, my stance on violence right now is again rooted in the heart of the issue. Why am I writing it? Is it because I enjoy showing people getting hurt or cut up or whatever? Or am I simply trying to put the reader in the characters' shoes and take them through the paces so they can feel what the character is feeling? Showing, not telling. Likewise, from the reader's point-of-view, if I knew some of the more graphic displays of violence in my fiction fueled some sort of weird lust for torture in my readers, then I'd remove that element because I'm feeding something that shouldn't be fed.
I will say, writing more or less clean books have been a bonus for me. I feel better about my work and it also serves as a selling point at book signings and conventions. Often people want to buy my stuff for their teenagers. When I assure them the books are language- and sex-free, they're thrilled to hear it and it helps close the sale. I do warn them, however, that some of my stuff is violent and if showing blood is a put-off for them, then maybe they should pass.
The hardest part about being an author that's Christian is that sometimes it puts a stopper on creativity. It would be fun to write a book with no rules and just put in whatever I felt like—follow the art, so to speak. After all, I'm a sinful man with sinful tendencies and art is about expression, whether that expression is all happy rainbows or storm clouds. Of course, this also means that what I put on paper is a reflection of my own heart. I'm paraphrasing, but like Jesus said, what's in a man is what comes out of him, and it's what comes out of him that defiles him or not.
I suppose this is where "Take up your cross daily" applies.
I think in the end what I write and what I include ultimately shows where I'm at in my spiritual journey and what business has been squared away and what still needs working on. The main point is this: as mentioned above, it's about the heart. Mine's not perfect, but it's getting better.
Take this as you may.
Sidenote: if you like writing contemplation and publishing talk, consider signing up for my free weekly newsletter, The Canister X Transmission at www.tinyletter.com/apfuchs You also get a free clown thriller out of the deal.
The first year of newsletters have been collected and released as The Canister X Transmission: Year One. Details at http://bit.ly/1PqpSNh Thanks.