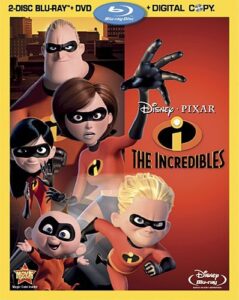 The Incredibles (2004)
Written by Brad Bird
Directed by Brad Bird
Runtime 115 min.
5 out of 5
Superheroes used to span the globe, saving people from all sorts of calamities and stopping numerous supervillains from taking over the world. However, after an incident in which Mr. Incredible saved someone who didn't want to be saved and the superheroes were sued for not only that but all the collateral damage their superheroic exploits caused, the government forced the superheroes to go into hiding and created a superhero relocation program for them.
Now, many years later, Mr. Incredible is married to Elastigirl, has three superpowered kids, and is just trying to lead a quiet domestic life while also being unable to help himself but sneak out now and then to do good deeds for people along with his buddy Frozone. When an opportunity arises from a private party for him to once again don his tights, Mr. Incredible jumps at the chance and gets to be a hero once more. The only problem is this private party is not who they seem and has a deadly agenda against not just Mr. Incredible but against all former superheroes.
The bonds of family and friendship are tested to their limits as Mr. Incredible must try and stop this threat without getting his family involved.
Except, it might already be too late for that.
Wow.
Every so often a superhero movie comes along that does everything right. Great characters, great story, great presentation. In the case of animation, great voice talent, a great tale, great effects, great rendering. The Incredibles is an utterly amazing movie and is in the top ten superhero flicks of all time. In my personal top five, easy, and very close to the number one spot.
This movie hits all the high notes on every level. Superhero action? Check. Awesome heroes and an A-plus villain? Check. Completely relatable characters? Check. A solid story with an interesting plot? Check. A stellar cast? Check.
Ah, where to begin? That's the thing with this movie: there is so much right with it that it's hard to decide where to start.
Okay, how about looking at a superhero story without the super heroics? Before you throw stones because I know there's lots of superhero-ing in this movie, the majority of it doesn't have that stuff, but instead focuses on the lives of a family of superpowered people and what they have to go through to keep their powers a secret thanks to the government making it illegal for superpowered individuals to show themselves. You got Bob Parr (Craig T. Nelson), who's just itching to relive the glory days and finally does albeit covertly; you got the homemaker wife, Helen (Holly Hunter), who's just trying to hold down the fort against a husband she discovers is out gallivanting with his buddy (Lucius Best aka Frozone played by Samuel L. Jackson) while also juggling kids; Dash Parr (Spencer Fox), who's frustrated he's got to keep his superspeed under wraps; Violet Parr (Sarah Vowell), who's frustrated in being in a family that can't be who they truly are; Jack Jack (Eli Fucile and Maeve Andrews), well, he's just a baby and does baby stuff . . . but with a super flare, of course. Throw in a supervillain who's motivation for being one is totally plausible—proving himself to the one hero who let him down—and, yeah, the heart of this movie lies in the people versus just simple superhero action.
When it does come time for the Parrs to don their new gear and become the superteam the Incredibles, they take all that character development with them and bring it to the streets as they fight Syndrome (Jason Lee) and put a stop to his evil plans.
What's great, too, about this flick is the immense amount of world-building thanks to the backstory as to how the heroes—or the "supers" as they are called in the flick—used to be all over the place and then how and why they were suddenly banned from doing their job with Bob right in the middle of it. It was actually his case of saving someone from suicide that caused the whole thing. (And suicide, by the way, a pretty dark subject for a kids movie.) You also got to see many of the other heroes that inhabit the Incredibles's universe, giving you a sense of scope that adds to the believability of the story and enhances the character depth even more.
Thematically, this movie is about many things, some of which are dealing with poor self-esteem, sacrifice, being true to who you are, doing the right thing at all costs and, at its heart, the strength of family against all odds.
The Incredibles is a movie that is highly recommended, a genuine timeless classic, and there have been rumors of a sequel for years. Director/writer Brad Bird has hinted at it repeatedly, but is also waiting for the right story to come along. To be honest, a part of me hopes a sequel doesn't happen because I understand the power of a good solo flick and how hard it is to do a follow up that tops the original. At the same time, we seem to have come to a place in superhero cinema where the sequel often is better than the first.
What do you think?
While you mull that over, go back and watch The Incredibles again.
And again.
And again.