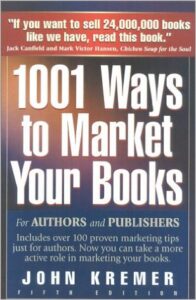 1001 Ways to Market Your Books: For Authors and Publishers, 5th Edition
by John Kremer
5 out of 5
This review is for the fifth edition of this book, though I suspect that the fifth and sixth editions are virtually the same save for a bit of info here or there.
Writing a book is easy. Getting it out there is hard. It's a challenge for both the big, small and self-publisher alike. 10% of your time and energy goes into creating your masterpiece, 90% goes into bringing it to the masses.
In 1001 Ways to Market Your Books, author and publisher John Kremer walks you through step-by-step 1001 effective methods to market your book.
This doesn't read like a manual or some textbook. Kremer's professional yet personable writing style keeps you interested and forces you to pay attention to everything he has to say.
This book is so dense that you can't just read it once then call it good. It's a resource, which means it's meant to be visited each time you publish a book so you can pull out some of the 1001 marketing methods offered.
Don't try doing all 1001 things suggested in this book all for one title. It won't work. Kremer even says so in the opening pages. The idea is to cater to your particular book's needs and find the marketing methods that work for that specific title.
Kremer backs up his info with industry stats, gives examples of what's worked for some publishers and what's failed for others.
Take notes while you read it. Even jot down in separate columns on a loose sheet of paper what ideas would work for the titles in your company's catalogue and mark down the page number in Kremer's book for each.
This is a book every serious publisher needs to have on their shelf. More importantly, it's a book they need to use.