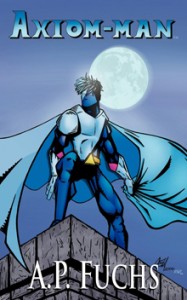 I'm a great deal through revising the original Axiom-man novel and prepping it for the 10th-anniversary special edition that's coming out in the fall.
It's like going back in time. Not only do I get to revisit the story, but I also get to revisit myself because it was written when I was 25 and still new at this writing game. I was a very different writer back then so my mission with the revision isn't to do a complete overhaul, but maintain the voice of that 25-year-old while updating the text to match the writer I am now.
The special edition will not only contain the revised version of the story, but a lot of bonus material, too, which will be revealed at a later date.
Whether you're new reader or have been following The Axiom-man Saga since the beginning, this is a book you'll want to add to your collection once it's released.