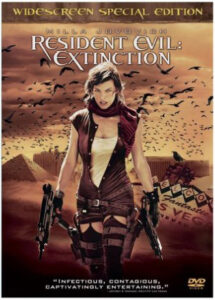 Resident Evil: Extinction (2007)
Written by Paul W.S. Anderson
Directed by Russell Mulcahy
Runtime 94 min.
5 out of 5
Alice (Milla Jovovich) wanders the Nevada desert alone, flying under the radar of the Umbrella Corporation.
It's been five years since the deadly T-virus outbreak. The world is all but in shambles. Alice believes that only Alaska is the last safe place on Earth. An old journal she found with a six-month-old radio transcription told her so.
On her journey, Alice comes across a small caravan of survivors headed up by Claire (Ali Larter) that also happens to be carrying along some old friends: Slater (Matthew Marsden) and L.J. (Mike Epps).
She convinces them to head north to Alaska, and so they embark, fighting off the dead at every turn, even undead crows that have been transformed from feasting on zombie flesh.
Dr. Isaacs (Iain Glen) wants Alice back under his control as he focuses on perfecting her as a weapon against the undead. Except, once Alice catches on, she manages to disable their system of control over her and escapes with Claire and the others.
All hope lost, and having been bitten by one of the dead himself, Dr. Isaacs uses the antivirus on himself . . . but in a different way, creating a result neither he nor Alice expected.
It's ultra crazy good and suspenseful action horror in this third installment in the Resident Evil series.
Wow. I mean, man oh man, I love this movie. So, so good. I'm a sucker for roadside horror and sleepy towns. This movie has both. The zombies? Pure gruesome since most of them have been rotting for five years as they wander around devouring the rest of the living.
The zombie crows were a nice touch. So, so many of them. Swarms. That's the thing I always tell people about zombies. One zombie's not so bad. Get a whole mess of them together and they're scary as all get out. Same for zombie crows. There was enough here to turn the sky black. Freaky.
The development of Alice's powers was cool and though her telekinesis might seem kind of outlandish to some, it's portrayed well here and done with the utmost seriousness and not used as a cop-out to get her out of a jam.
I felt bad for her as well when she saw all those clones of herself rotting out in the desert sun. That'd be heartbreaking, upsetting and angering for anyone. I'm glad she gave Dr. Isaacs his due.
The ending raises a ton of questions for the forthcoming Resident Evil: Afterlife. I'm eager to see how they deal with that army of Alices without it coming off goofy or repetitive.
This movie's score was also spectacular, the hard beat of the drums and dark, raunchy guitar giving it a very awesome grittiness that adds to the whole post-apocalyptic feel.
Check this flick out. It's hardcore, loaded with gore and just down right fantastic.
Recommended.