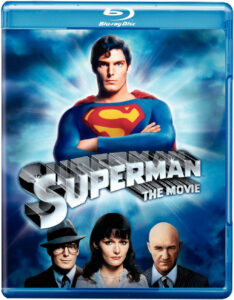 Superman (1978)
Written by Mario Puzo, David Newman, Leslie Newman and Robert Benton
Directed by Richard Donner
Runtime 143 min.
5 out of 5
Before the doomed planet Krypton explodes, Jor-El and wife Lara send their infant son, Kal-El, to Earth to save his life. Discovered in a field and raised by Jonathan and Martha Kent, Kal-El—renamed Clark—grows up to discover he has powers and abilities far beyond those of mortal men. After leaving the farm after high school, Clark heads north and meets a holographic projection of Jor-El and learns who he really is and what he is meant to do. Twelve years later, Clark re-enters the world and becomes Superman, a symbol of hope in a world that desperately needs it.
Upon observing Superman's debut, the greatest criminal mind of our time, Lex Luthor, hatches a clever real estate scheme to destroy the Man of Steel while also making himself filthy rich.
With millions of lives in the balance as well as his own, can Superman stop Lex and put an end to the madman's plan?
Like most kids, I watched this flick a thousand times. Okay, maybe not a thousand, but as often as I could considering my parents taped it for me and I knew how to work the VCR. At one point, I think we even had a VHS tape that had all four Superman movies on it from when they aired on TV. Anyway, I'll freely admit this review is totally biased as we're talking about a movie—especially a Superman movie—from my childhood, and it's impossible for me to watch the movie now without memories of being a kid, holding my Superman action figure and watching Superman catch Lois Lane falling from a helicopter that's stuck on the side of a building.
That said, this movie is still aces for loads of reasons. One, it was taken seriously. I read somewhere that Christopher Reeve—who plays Superman/Clark Kent—put forth that he wanted to do it straight-laced. Up until then, you had the Batman TV series for men in tights (unless you counted the Green Hornet TV series, which was semi-serious), and then the cartoons. There was the George Reeves Adventures of Superman series in the '50s and the Kirk Allen series before that, but in terms of immediate "superheroes in people" memory, you had '60s Batman and that was it.
By taking the source material seriously, by playing Superman as if it's really happening, this was the first time audiences were treated to superheroes in real life and the filmmakers weren't kidding when they said, "You'll believe a man can fly." I know I did, both now and when I was a kid. Superman was larger than life on the screen, whether he was using his powers or not. He inspired hope, and the film didn't shy away from showcasing a Superman that fought for "Truth, Justice and the American Way."
We got to see Superman enjoy being Superman, especially during his first night out saving a cat stuck in a tree, stopping Air Force One from falling to the ground, apprehending a jewel thief and putting an end to a criminal/police car chase.
Christopher Reeve as Superman has been the benchmark every other Superman actor has tried to reach. His Superman is bold, idealistic, hopeful and kind. As Clark Kent, mild mannered reporter for the Daily Planet, he did a fine job of really making you believe he was two different people when all he really had to use was a change of clothes, a new hairstyle and a pair of glasses. The guy changed his voice, his mannerisms, his speech—everything. I bought it. Go ahead. Put a picture of the two side-by-side and it's like two different guys, so I don't believe it when people nowadays say a pair of glasses is a stupid idea to conceal your identity. Ever have someone you know really well not recognize you after a haircut? It's happened to me and that's just a haircut not something covering part of my face like glasses. Anyway . . .
Margot Kidder was a solid Lois Lane: brash, driven and totally obsessed with Superman while being dismissive of Clark Kent. Her way of treating the two totally made the bizarre love triangle that is Superman/Lois/Clark work. Aside from some bad decisions that maybe we wouldn't expect a smart-as-a-whip reporter to make, she still sold it.
Gene Hackman as Lex Luthor. His version was good. I don't know much about the comics of the time, so I can't say how faithful he was. But in terms of being a good villain, for sure. And he was a bad guy here, an actual criminal and not the revered-but-shady businessman he would later become in the comics world.
The overall story: hey, it's simple, but so were most movies back then. At the same time, the superhero movies of today—as good as they are—could learn a lot from Superman and sometimes keeping things simple instead of just non-stop explosions and action is the better way to go. So much more room for character development and interaction.
This review wouldn't be complete without mentioni