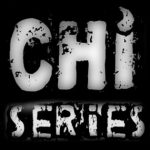 On October 5th, I will take part in the Halloween edition of ChiSeries Winnipeg alongside Eileen Bell and J.H. Moncrieff. We will be in the Travel Alcove at McNally Robinson Booksellers here in Winnipeg from 7:30 – 8:30pm. There will be readings of spooky stories and probably a Q and A. My plan is to read from Zombie Fight Night: Battles of the Dead.
Zombie Fight Night, along with the entirety of my Undead World Trilogy, will be on hand for purchase and signing.
Come down for some pre-Halloween fun and writerly good times.