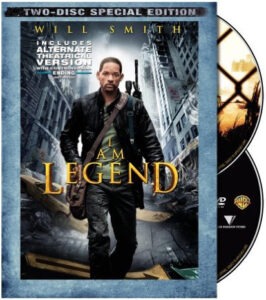 I Am Legend (2007)
Written by Mark Protosevich, Akiva Goldsman
Directed by Francis Lawrence
Runtime 101 min.
4 out of 5
Based on the book by Richard Matheson, I Am Legend is the story of Robert Neville (Will Smith), sole survivor of a plague that, originally, was supposed to be a miracle cure for cancer three years before. Instead, most of the world died at the hands of the plague. Others mutated into bloodthirsty vampiric creatures; only a small percentage of humankind remained immune to the disease.
All alone in New York, virologist Neville tries to find a cure and "fix" the problem that stole the lives of everyone he knew and everyone he loved, while also trying to survive in a city infested with the infected and ferocious monsters.
Straight from the start you know you're in for a ride.
An empty city, overgrown and broken down.
A lone guy speeding through the streets in a fancy car, weapon at his side.
Animals prowling the streets, free of their cages.
The lock up.
The screams.
The howls.
Yeah, good stuff.
The intense feeling of atmosphere was what drew me into this flick. Immediately isolation sets in right from the first frame as we see Neville trying to maintain a normal life in a dead city (renting movies, talking to mannequins, keeping a routine), his eyes washed with pain yet underscored with determination to keep going. This is a one-man show and I haven't seen it done so well since Cast Away (one of my favorite movies) years and years ago.
No complaints about Will Smith here and he's done a good job over his career to make you forget about the loud-mouthed homeboy he played in Fresh Prince of Bel-Air. Plus, did you see the guy in this film? He's ripped! Shredded. But, I guess, you'd have to be if you lived a world where vampire-zombie-human things prowled the streets and your life could be in jeopardy at the drop of a hat if you weren't too careful.
Which brings me to the monsters in question. Overall, well done. Creepy skin, no hair, loud growls, amazing agility and intensely vicious. Yeah, killer. Obviously they were CGI so they did look a tad rubbery and there were a few moments where it felt I was looking at a cartoon. Thankfully, those moments happened so fast and the action was so intense that I quickly forgot my quibble and moved on.
My only thing was the ending. Now, I never read the book so I can't compare, but it ended too abruptly and really lost its post-apocalyptic feel in the last five minutes or so. Sort of a Disney ending, which didn't fit in with what was a gloomy story up until that point.
Regardless, if someone asked me what I thought of this film, I'd tell them to go see it.
It's that good.