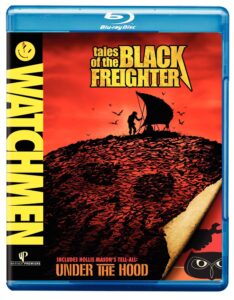 Watchmen: Tales of the Black Freighter & Under the Hood (2009)
Written by Zack Snyder and Alex Tse
Directed by Daniel DelPurgatorio and Mike Smith
Runtime 26 min.
4 out of 5
The DVD contains two features: Tales of the Black Freighter, an animated adaptation of that oh-so-bloody pirate comic embedded in the overall Watchmen strip (by Alan Moore and Dave Gibbons), and Under the Hood, a TV show interview with Hollis Mason (Stephen McHattie) about his bestselling, tell-all autobiography regarding his time as the original Nite-Owl during the first superhero boom of the late '30s/early '40s.
Tales of the Black Freighter was remarkable, grisly, and just plain cool. Even if you don't like pirate stories, it's guaranteed you'll dig this. It's a story about survival, the need to save others and the consequences of choosing that path, and what might happen to a man who becomes so obsessed with an ideal that he runs the risk of distorting reality completely.
Under the Hood was equally well done. Done as a "look back" magazine television show—complete with commercial breaks using products from the Watchmen graphic novel—it explores the origin of the superhero fraternity through the very realistic eyes and humble spirit of Hollis Mason. You forget that it's fiction quite easily and the segment also has that nostalgic feel of the Watchmen movie.
Also included is the very cool motion comic of the first chapter of the Watchmen graphic novel. This was just plain cool and the animation was far more than I expected. Thought I was only going to get a few sliding frames ala some anime segments but instead got a lot of animation for each panel of the graphic novel. In fact, this segment alone sold me on getting the whole graphic novel animated DVD. Likewise, you also get a behind-the-scenes featurette on the back stories that are Tales of the Black Freighter and Under the Hood and what they mean to the overall Watchmen experience.
The reason I gave it four stars instead of five is solely because five stars means I've been blown away and, well, the Watchmen theatrical film already did that and this isn't quite as good. It's my hope, however, that on the Watchmen director's cut they splice in Tales of the Black Freighter as shown above. Very cool. They shot all the newsstand scenes with the kid reading the comic book for it anyway so might as well use them.
Recommended.