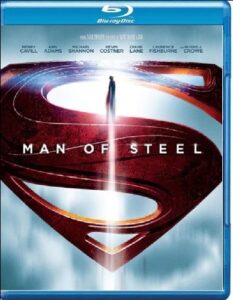 Man of Steel (2013)
Written by David S. Goyer
Directed by Zack Snyder
Runtime 143 min.
5 out of 5
A sole survivor of the doomed planet Krypton grows up on Earth and discovers he has abilities far beyond those of mortal men. Once grown, he sets off to find out who he is and where he comes from. The answer is discovered in a spaceship in the arctic and Krypton's Last Son, Kal-El—Clark Kent—meets a hologram of his long-dead father, Jor-El, who reveals to him his destiny: to be a beacon of hope for humanity, and also someone who could one day restore the doomed Kryptonian race.
Enter Zod, a harsh general and one who has fought his whole life to protect Krypton and its people. During an altercation with Jor-El prior to Krypton's explosion, he finds out that Jor-El has sent his newborn son off-world and, along with the child, plans for Krypton's future. A battle ensues and Zod is sent off-planet, too, him and his cohorts banished to the Phantom Zone for rehabilitation. When Krypton explodes, the containment units holding Zod and his followers release them and he spends the next thirty-three years combing the stars, searching for Jor-El's son.
Locating Kal-El on Earth, Zod sends an ultimatum to the planet, forcing Kal-El to reveal himself to the humans and to stop Zod from using Earth as ground zero for a new Krypton. Zod, like Kal-El, is now powered by the Earth's yellow sun and is empowered with superabilities. An enormous battle ensues between Krypton's general and Kal-El, the fate of the Earth hanging in the balance.
What can I say? This movie is mind blowing! It's epic, it's incredible. So much was riding on this film to deliver a Superman movie that would captivate audiences and restore the Man of Steel to his rightful place as king of the superheroes. Man of Steel does just that and then some, bringing with it the awesome sci-fi factors of Star Wars to the dense storytelling of The Dark Knight Trilogy.
There has never, ever been a superhero movie like this before. Henry Cavill as Superman nailed the part. He's a nice guy, a caring guy, but he's dead serious about doing the right thing and exudes the confidence that only one who has sold himself out for the good of all can portray. He did something that was never done before by any other Superman actor: showing Clark Kent before he was Superman or even the bumbling reporter of the Daily Planet. (I'm referring to the movies, not Smallville). In fact, he's this version of Clark Kent for nearly the whole movie. You see him making the big decisions, weighing his upbringing against this new task of saving the world that was suddenly dropped on his lap. You journey along with him as he wrestles with his being different and how those differences apply not just to his life, but to the lives of others.
As Superman, he's the Superman. I never thought Christopher Reeve's performance could be outdone, but Henry Cavill matches, if not exceeds, what Mr. Reeve brought to the character. Cavill's Superman is one hundred percent devoted to staying true to who he is, his abilities, his upbringing, his quest for truth and justice, and for putting his foot down both with men and rebel Kryptonians when needed. I can't really comment on his reporter Clark persona because that's not a big role in this movie. I hope, however, it will be in the sequel and we'll see plenty of Lois and Clark interaction in the next one, especially after the way the Lois and Clark relationship is portrayed in this movie. You'll have to see for yourself for what I mean.
Michael Shannon as Zod was crazy good. The guy can act and his Zod is much different than Terrence Stamp's. Yes, both are ruthless, but whereas Stamp's Zod was more about power grabbing and his desire to rule, Shannon's is about giving his all to restore the former glory of Krypton at any cost, even if that means eradicating all of Earth's population to do it. The best villain is always the villain you accidently find yourself rooting for, and that happened to me throughout this movie. Every so often I felt for Zod and understood what he was trying to accomplish. It made sense and made me consider that maybe if I was in his shoes I would've done the s