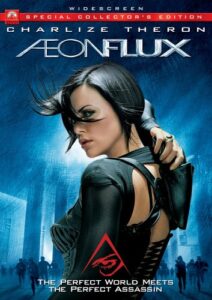 Aeon Flux (2005)
Written by Phil Hay and Matt Manfredi
Directed by Karyn Kusama
Runtime 93 min.
4 out of 5
In the early twenty-first century, a deadly virus wiped out 99% of the Earth's population. Now, four hundred years later, all of humanity lives in a walled-in city named Bregna and are led and monitored by a group of scientists. But not all are happy with this arrangement and a rebel group called Monicans have risen to oppose those in charge.
And Aeon is one of them.
At first glance, the main story of this movie is like many others that have come before it: a small band of rebels going up against an oppressive government. But this movie isn't that simple and the aforementioned plot is just what gets us from Point A to B. There are other factors that play into the story, complicated ones, taking what could have just been a B-sci-fi movie all the way to A-level.
Charlize Theron stars as Aeon, the Monicans's cold, stick-to-business top assassin. The intensity she brings to the role drags you in and makes you want to discover what makes her tick. Yet she also has a warm side, but one hidden and numbed by years of training and running top secret errands for her team. Theron put on a wonderful show in the lead.
The supporting cast, though they all did a good job and their characters were believable, were just that: a supporting cast. No one's performance really stood out except maybe Sophie Okonedo as Sithandra (the girl with the hands for feet). She was just plain cold (in that good way).
The special effects are astonishing. There is not a single element in this film that is "everyday." Everything was built for it, whether physically or via CGI. The action is astounding, part Matrix and part Underworld.
Action and sci-fi fans should really get into this movie.