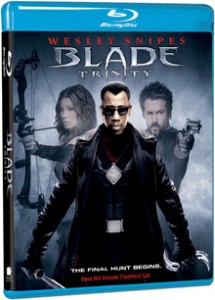 Blade: Trinity (2004)
Written by David S. Goyer
Directed by David S. Goyer
Runtime 113 min.
3.5 out of 5
Things come to a head in this thrilling final chapter in the Blade Trilogy, pitting Blade against Drake aka Dracula, the king daddy of all vampires. Teaming up with Hannibal King and Abigail Whistler, the trio seeks to take down Dracula before he can create more daywalkers and eliminate Blade forever.
If you're going to bring things to a head and have a final showdown between the good guy and a major bad guy, you need to ensure that your major bad guy is a big deal and you don't really get any more big deal than Dracula. Created by Bram Stoker and based on the historical and infamous Vlad the Impaler, Dracula was the first vampire ever and has since become not only the most famous one, but has tons of media under his namesake including movies, books, TV shows, cartoons, songs—everything. And that's just him never mind the countless media sporting all the vampires he inspired. Taking a vampire hunter like Blade and putting him up against Dracula makes good sense to me.
Except the Dracula in this movie is pretty so-so, which doesn't cut it, in my opinion. I was expecting an ultra-powerful vampire, one that would give even the Reapers in Blade II a run for their money in terms of villain awesomeness. Instead, I was given a strong vampire, but not the ultimate vampire. Too bad, too, because having him as a bad guy is an awesome idea.
As always, Wesley Snipes leads the flick as the titular hero, picking up right where he left off in Blade II and staying consistent in character start to finish.
Having Ryan Reynolds as Hannibal King—I'm a Reynolds fan. Put him in the right role and you're guaranteed something good. Not sure how he stacks up against his comic book counterpart, but for this flick, not only was he tough as all get out and kicked all sorts of butt, but the comedic elements he brought had me laughing out loud more than once and yet such jokes worked in this movie and didn't seem out of place.
Jessica Biel as Abigail Whistler—who doesn't like a strong woman who can hold her own and fight vampires? I appreciated the seriousness she brought to the role and was a nice counterbalance to Hannibal King.
Kris Kristofferson was briefly back as Whistler, Abigail's father. Won't say more as I don't want to spoil anything for those who haven't seen the flick yet.
This movie has solid action throughout, but I wish the climactic battle between Dracula and Blade was more epic. Seemed average, but that could just be me. Really liked this movie on the whole, though. It was the Dracula angle that brought it down a notch solely because there was more they could've done in terms of raising the stakes with such a villain.
In the end, it's a decent send-off for Blade and a pretty good bookend to the trilogy.
Go check it out.