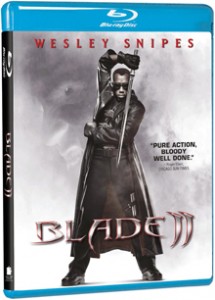 Blade II (2002)
Written by David S. Goyer
Directed by Guillermo del Toro
Runtime 117 min.
4 out of 5
A major virus is sweeping the through the vampire community and transforming its hosts into creatures called Reapers, who have a thirst for blood worse than vampires, are near invulnerable, and who can also pass the virus on to victims of their own. Worse, they feed on both human and vampire alike. Desperate to stop these creatures, the vampire community strikes a truce with Blade and gets him to help them fight these awful creatures. As Blade carves his way through the Reapers, he finds out their sinister origin and must put a stop to the Reaper vampires once and for all.
The thing with sequels is you gotta go bigger and better than the first one. It's not always easy and usually fails, however there are exceptions and Blade II is such an exception. Instead of just simply pitting Blade against more vampires, he now has to fight alongside them and stop a common enemy. How does that go? "The enemy of my enemy is my friend"? That's what's happening here and is a unique take on the vampire mythos and takes Blade to the next level.
Wesley Snipes is back as the Daywalker, and does everything right in this flick like he did in the first movie: tough, sweet action, martial arts, swordplay, solid acting and more. It's always great when you can see the actor enjoys what they're doing—or convinces you they are—instead of merely phoning it in as is sometimes the case when an actor keeps reprising a role.
Kris Kristofferson is back, too, which is awesome because Whistler is a big part of the first movie and this one might've felt hollow without him. How they bring him back after what happened in the last movie was also clever.
The Reapers—total killers with sweet SFX, brutal savagery and they make the regular vampires look like a bunch of modern day angsty vamps by comparison. Always a good thing when you up the ante on the bad guy.
I really liked this sequel, especially because, like I said, it had a fresh take on the slayer-vs-vampire mythos and I'm all about fresh takes. The story moved along at a good clip, kept me engaged, and makes me have a good time every time I have a Blade movie marathon.
Awesome stuff, Blade II.
Recommended like the first.