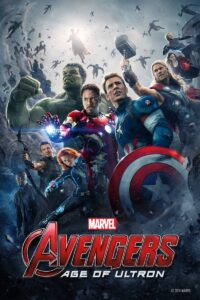 Avengers: Age of Ultron (2015)
Written by Joss Whedon
Directed by Joss Whedon
Runtime 141 min.
5 out of 5
In an effort to protect the world from future alien attacks, Tony Stark uses the artificial intelligence inside the gem of Loki's scepter to complete his Ultron program. It works but, unfortunately, the now-sentient Ultron AI has taken it upon itself to destroy the human race.
Time for the Avengers to assemble.
Recruiting the Maximoff twins, Ultron uses them to take on the Avengers while he attends to building a robot army. Soon the Avengers are taken out and must re-assemble if there is any hope they can stop Ultron before his plan of global destruction comes to pass.
With the fate of the planet hanging in the balance, can the Avengers stand against a seemingly unstoppable foe?
Sequels are tricky business, especially when creating a sequel to not only a quality film, but one that was a hit at the box office. Usually, sequels pale in comparison to their predecessors, but now and then—and more often than not in the superhero genre—the sequels outshine the original and Avengers: Age of Ultron did just that. As good as the first Avengers was, Age of Ultron is better.
I don't want to give away any plot points to those who haven't seen it yet, so these are more my thoughts instead of notions on specifics of the film.
One of my greatest fears for this movie was its giant cast. Not only did the standard Avengers team return—Iron Man, Captain America, Thor, Black Widow, Hawkeye, Hulk, Nick Fury, Maria Hill—but it was greatly added to with the addition of War Machine, Quicksilver, Scarlet Witch, Vision and, sorta, Falcon. All these characters could have quickly made the movie go the way of Spider-Man 3, but instead more or less equal screen time was given to the majority of the cast, with supporting roles coming in to do their job without making the film feel overly crowded.
On the acting front, the main Avengers team have really come into their own, the actors having now portrayed their characters a minimum of three times prior to this movie and it really shows through. There's an air of comfort about who they're playing and each one has made the character their own while also staying true to that character's comic book roots. Even the humor in the movie was fitting and not once did it feel forced or cheesy or slapstick. Most of the humor was off-the-cuff comments, which made the team more human and relatable.
Ultron was a terrific bad guy. He was smart, dangerous, evil, but at the same time had a humanity to him that helped connect him with the audience. He wasn't just some evil robot and that's it. He was also a formidable foe for the Avengers and it did take the entire team to take him down.
The addition of Vision worked well and was a good progression of the Jarvis character. He had a specific purpose in this movie and fulfilled it to a T. I'm curious to see what role he plays either in the stand-alone Marvel movies or in the upcoming Avengers: Infinity War flicks.
On a fanboy note, there were some amazing iconic superhero action shots in this flick, the kind that makes you gush and squeal (yes, I'm that nerdy). There is one particular moment—you'll know it when you see it—where I was just, like, "Wow, oh wow." And the action on the whole was well done, with each character fighting according to their skillset.
Going to have go back for a second outing to the theatre on this one and, of course, will be adding it to my personal movie collection when it comes out.
Highly recommended.