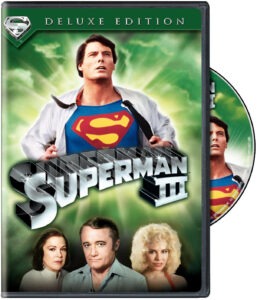 Superman III (1983)
Written by David Newman and Leslie Newman
Directed by Richard Lester
Runtime 125 min.
3.5 out of 5
Gus Gorman (Richard Pryor) can't get a break, so he decides to go back to school and become a computer programmer. Finding out he has a genius-like knack for telling computers what to do, he quickly tries to make himself rich by doing so. After getting caught, the business tycoon he tried to rip off hires Gus to use computers to make him rich, namely by building a machine that can control the weather and cause different natural disasters which would in turn benefit the company. The plans are foiled when Superman (Christopher Reeve) steps in and saves the day. Now with the Man of Steel in their sights, Webster uses Gus's computer know-how to take down the Last Son of Krypton once and for all by synthesizing the one thing that can hurt him: Kryptonite.
Except, because of a slight alteration to the formula, Gus and Webster get something else: a changed Superman, one bent on evil instead of good.
Can the Man of Steel be restored before Webster has taken over the globe?
What can I say about this movie? It's a hard movie to judge because it was such a drastic shift in tone from the previous Superman flicks that on the one hand, you look at it as a continuation of the others—and it fails miserably—but on the other, you see it for what it is and it's pretty good.
Let me explain.
As strictly a superhero movie, it's silly. It was written as a comedy—probably to make Richard Pryor shine, who was a massive comedic star in the '80s—and that's where its downfall was. While Christopher Reeve played Superman straight like he always does, it didn't really mesh with the rest of the movie and as a result it's hard to take it seriously.
However, Mr. Reeve is stacked as Superman in this flick. Physique-wise, he totally peaked with Superman III and was even more powerful-looking than in the other films. I wish this presentation of Superman muscle-wise was in all of them. The super feats are great, you cheer him on, and your inner fanboy squeals with glee every time.
Storywise, some might call it silly. I call it: okay for the time. In general, the idea of a computer genius trying to take out the Man of Steel is a fine idea. Put him up against some tech-based problems and you could have a go