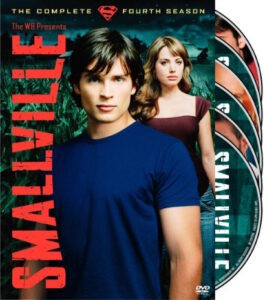 Smallville, Season 4 (2004 – 2005)
5 out of 5
This season was like a breath of fresh air after Season Three, which was so dark and gritty and full of angst. This season also marked the entrance of one of the critical figures in the Superman mythos: Lois Lane, played by Erica Durance. She's tough as nails, Tomboy-ish and reminded me a lot of Teri Hatcher, who played the character in Lois and Clark.
We also got to meet Bart Allen, on day to become the Scarlet Speedster, the Flash.
The over-arcing storyline of the season involving the three stones was played out nicely and, when I first saw what they were for, was geeking out all over the place. Of course, the cliffhanger season finale didn't help anything and brought yet another long summer as I waited for the Season Five premiere to show what happened next.
The only episode that bothered me—aside from the few that just seemed like filler—was the episode entitled "Blank," where Clark loses his memory and the most recent person to learn his secret has to show him who he really is and what he can do. They did this in Lois and Clark and this episode almost seemed like a repeat despite the story being different.
This was a great season nonetheless. Superman rocks, and looking back and seeing Season Four in the grand scheme of what had gone on before and what has gone on since makes it work really well. This season definitely was a turning point in the series, the first step in taking Clark from teen to adult.
Go see it.