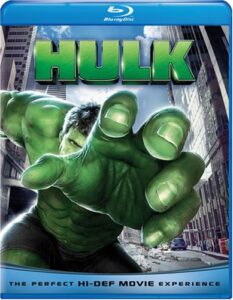 Hulk (2003)
Written by James Schamus, Michael France and John Turman
Directed by Ang Lee
Runtime 138 min.
3.5 out of 5
You're making me angry.
You wouldn't like me when I'm angry.
In a lab accident, Bruce Banner (played by Eric Bana) is hit with a healthy dose of gamma radiation, the effects from the blast triggering the dormant bizarre alterations to his body done to him by his father (played by Nick Nolte) when he was just a toddler. Now, every time Bruce gets angry, the gamma rays still in his body course through his veins and transform him into the Hulk, a booming mass of pure green muscle driven by rage and fueled by anger and frustration at all those trying to hurt him.
Bulldozing everything in his path, Hulk tries to outrun those who want a sample of his tissue and those who want him dead.
Bruce Banner must face what he's become and come to terms with its effects on his life, especially those on his ex-girlfriend, Betty Ross (played by Jennifer Connelly), and the relationship with her he's trying to salvage.
This Ang Lee-directed flick was well done, all in all. It took a while to get going (the opening credit sequence was especially long), but once it did, things got intense, heavy and also fun.
This is a very emotional story. It's a story of domestic abuse, suppressed memories, obsession, confusion, loss and everything in between.
If anything, though, it was too emotional.
Hulk is a hard character to bring to the screen but given the time allotment he had to convey as much story as possible, Ang Lee did a good job.
This is not a good-guy-versus-bad-guy superhero movie. To watch it as one would be doing it a disservice.
The comic book-framed shots added to the experience for this reviewer. Likewise, the all-CGI Hulk, once you got used to seeing him (he looks pretty cartoony at first sight), was believable and incredibly, no pun, well done. The way his muscles rippled when he tore stuff apart or flexed, the sweat on his skin, his hair blowing in the breeze—Ah, all good.
This film is for true Hulk fans and for the viewer who likes the occasional monster flick or man-on-the-run movie.
Hulk smash!