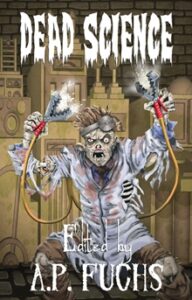 The first zombie anthology I edited, Dead Science, is on sale this weekend for less than a buck. 13 stories. 13 cool and unique takes on the possible scientific origin of the undead, plus, of course, some good zombie carnage thrown in for good measure. So far as I know, it's only anthology out there of its kind.
Please go here to download direct to your Kindle or Kindle-reading device.
Official write-up:
Science.
Research.
Knowledge.
The human intellect knows no bounds because of them.
We've built cities and nations upon them.
We've stopped the spread of terrible diseases because of what we've learned from them.
Lives have been saved . . . but lives also have been lost.
Now those lives have returned from the grave, seeking revenge.
Sometimes . . . science goes wrong.
Death.
Destruction.
Zombies.
Featuring the terrifying tales of 13 authors, Dead Science brings you stories of the undead unlike any you've ever read before. Prepare to go behind-the-scenes and learn about the causes of various zombie uprisings and the havoc these creatures wreak upon the living.
Stories by:
Gustavo Bondoni, Eric S. Brown, Michael Cieslak, Lorne Dixon, Anthony Giangregorio, Glen Held, Becca Morgan, Mark Onspaugh, Gina Ranalli, Vincent L. Scarsella, Jason V. Shayer, Ryan C. Thomas and Adam J. Whitlatch.
Like the other weekend-only sales, price goes back up Monday so be sure to jump on it straight away. Thanks.