Making Money in Comics – Can it be Done in the Digital Age?
on
June 22, 2012
at
3:00 pm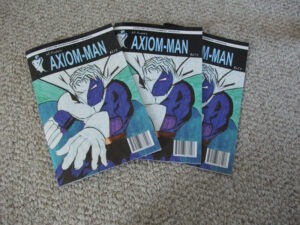 Regular visitors of this site know that since about mid March I've been running the new Axiom-man comic book as a webcomic over at www.axiom-man.com
The idea of offering the comic free is to help increase public awareness of the character, and also tell a serious superhero story via the Web as I've read elsewhere that a serious superhero webcomic is hard to find.
At the same the webcomic runs–twice a week: Monday and Thursday–the book is also released more or less monthly as both a print comic and a downloadable digital one.
The hard reality of the current print comic climate is that, unlike the glory days of the late '80s and '90s, and even up until a few years back, the comic book shop market for indie comics has shrunk so considerably that they are extremely hard to find. Even some stores, as per the comment section of Terry Moore's blog a while back, don't even carry his stuff, and he's right up there in terms of indie comic successes. Making things worse, Diamond Distributors, the only game in town to get your stuff into comic shops–again, unlike the glory days of the '80s and '90s–has raised the bar in terms of how much money your book has to bring in as a gross each month. Currently it's at about $2500 and as per this report, which makes it about 1,667 orders needed to hit that number. Sure, if you're a big name already, you'll probably pull this off. If not and are unknown to the comic field like myself, then, well, have fun. Likewise, you have to keep that sales level at least at that amount to keep being listed month-to-month. Since–not always, though–a monthly series' readership falls each month, again you have a major issue.
Yet there are so many creators out there who want to make comics for a living and not just as a hobby. My current challenge to myself is: can it be possible to carve out a sustainable comic book career, one that provides for oneself and family in today's market?
Is it really Diamond or bust?
I love a challenge. In fact, my entire literary career is built on that. I've fought tooth and nail to make a career out of writing and publishing books. Even been homeless once. I've also lived in major poverty where my wife and I had no food in the house aside from a can of soup and no money for groceries. My folks would drop off a loaf of bread and other small items to see us through until the next maternity leave check came in. Hard times, but during those hard times, I was paving a road and laying the foundation for what would later be a career in publishing and being able to support my family with it. The price was a ton of sacrifice, hard work, no sleep, ridicule, condecension, financial uncertainty, and a whole other mess of stuff that could be an entire blog entry on its own.
So . . . that said, let's get back to making a living doing comics. Is it possible nowadays? Especially if you're a nobody in the field and have zero "name weight" to throw around?
I think there is. I also have zero data to back up this theory/ideal, but if I have learned one thing duking it out to have a creative career, is that, as Marty McFly said, "If you put your mind to it, you can accomplish anything." This includes comics.
Quick side note: I refuse to take all the credit for my current career. I thank Jesus Christ first and foremost for being blessed enough to have such a career. I also thank the support of my wife and others.
If you talked to a marketing guru and asked how to be successful–in any field where something is manufactured–they'd tell you to "find out what people want, make it, then sell it to them."
Makes sense.
But if you're an artist–and without sounding pretentious as all get out–sure, you can make what people want, but the final product wouldn't be as good as making what you want. So then the question becomes personal and you have to decide whether you're going to go short or long term for other folks' desires, or for your own.
After having done both, I'm sticking with the latter. If my heart and soul is going to go into a project, I better be passionate about it. I remember something Kevin Smith said a long time ago, something along the lines of, "If I like what I write, then odds are there is someone else out there like me who'll like it, too." Good advice. Of course, how many people are "like you" varies. (Actually, who else out there is like Kevin Smith?)
My new comic series, Axiom-man, is part of my life's work, that is, when I leave this planet, I want a giant saga about a superhero to be left behind, one encompassing books, comics, audio books, etc., all done by a single creator. I also want this work to be true to the vision I have for it, which is not quite your usual superhero fanfare. The Axiom-man Saga, though chock full of superhero action, is also a life-and-times piece and chronicles the life of a superhero starting from when he first donned the tights at age 24. There's drama, some of the daily mundane, introspection, romance, superpowers, and a pile of other stuff (including what it's like to fly all the way down from Canada to Florida when you're top flight speed is about 60km an hour).
The books are like that and I want the comics to be like that, too. I'm also taking a huge risk in the comic's presentation since I'm heavily inspired by indie comics, namely independent, black-and-white books. The Axiom-man series is in black-and-white with a hand-colored cover. No digital. The inside has a touch of digital here and there, but nothing super fancy as I personally find today's digitally-colored comics distracting and the overuse of gradients and effects dragging down the original artwork.
A black-and-white superhero book? Are you crazy? Well, maybe a little, depending who you talk to. So far as I know, Axiom-man is the first single-creator, long-term comics narrative done in black-and-white, and also the only one done by one creator. Not only is this cost-effective, but it's also a smart choice in making the book stand apart. Of course, for some superhero readers, it might take some getting used to.
Anyway…
Below are some numbers and figures regarding the first issue. Though a monthly book, the figures below cover the first issue since its first page aired on the Web to its last page, cover-to-cover.
Webstats: 1,100 (equaling an average of 11.34 hits per day. Since my counter doesn't tell me which are unique hits, let's just assume that each repeat visit was by the same person.)
Money out: $416.59 (print costs, taxes paid not included in this total)
Money in: $33.30 (sales income, taxes collected not included in this total)
Profit: – $383.29
It's a decent chunk of change to be in the hole, but the good news is a) the comic is still for sale and will move copies (I'm fairly well-known at C4 Comic Con), and it's also available in digital via Kindle and that will be one sale perpetually b) I'm used to thinking longterm for this business. I'm also encouraged by what Dave Sim said when he talked about the early days of Cerebus. He said for the first couple years on the book, he would have made more money babysitting.
Comics is a marathon, especially when you're an unknown comics creator jumping into the water.
Take the above as you will, but I thought it'd be fun to share this journey with you.
If you would like to help turn that negative number into a positive, Axiom-man No. 1 is available in both print and eComic through multiple venues. Please see the comic book store here for details and issue summary. Info on the second issue is also there. Thanks in advance for your support.
Feel free to sound off in the comments below. Perhaps we can all learn something from each other.