April is here and so is the third issue of my quarterly zine comic, Canister X Comix. This one is very special as it takes on the comic book medium via a story by photographs. Setting it apart, there are no people in the photos, just scenes, all set to a narrative about a girl who went missing.
I hope you check it out.
Thanks.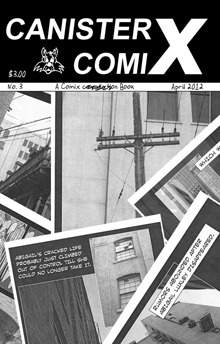 Canister X Comix No. 3 – April 2012
Inside:
Every once in a while we lose track of ourselves and wander away from life, people, even the core of who we are.
It happened to Abigail.
Is it happening to you?
In this introspective comic, A.P. Fuchs takes on the comics medium utilizing photos and captions to tell a unique story about a girl who went missing.
24 digest pages, B&W
__________________________________________________________________________
Ordering and/or subscribing to Canister X Comix is made easy by allowing you to customize your order to what fits you based on the guidelines below. Bundle orders receive discounts whether on the comix, the shipping, or both.
Single issues – $3.00US each plus $1.25US each for shipping ($2.25 outside Canada/US)
First three-issues bundle pack – $8.50US plus $3.00US shipping ($5.00 outside Canada/US)
Four-issue subscription:
Canister X Comix is published quarterly. Your subscription would start based on the issue you specify in your order. The comix are sent out on the release date for subscribed customers.
Canada/US
$16.00US, shipping included
International
$20.00US, shipping included
Please send payment via Paypal to killermarketing(at)zaam(dot)com (switch out the words in brackets with the actual key/symbol on the keyboard). Canadian orders add 5% GST.
For any questions about your order, please use the contact page on this site. Thanks.