Canister X Comix Coming Real Soon to Amazon Kindle
on
December 2, 2011
at
2:46 pm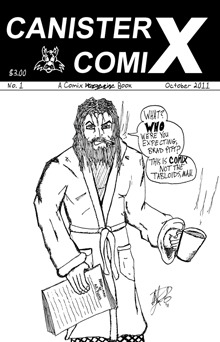 Today I began formatting Canister X Comix No. 1 for the Kindle. I hope to format one issue a week given my current schedule, so over the next 3 weeks or so, Canister X Comix Nos. 1-3 will be available digitally.
This is an avenue to reach readers that a lot of indie cartoonists don't use and I don't know why. Some, I suspect, are purists in the sense that they only want paper comics. Okay, fine, but in an ever-increasing digital era, wouldn't you want to go where the readers go instead of waiting for the readers to come to you?
Just a thought.
Anyway, I'm excited to bring Canister X Comix to the Kindle, but don't worry, their paper comic counterpart will be published quartely like always. Speaking of which, issues 1-3 are available here.
Thanks.