Axiom-man Episode No. 2 Title Announcement and Cover Art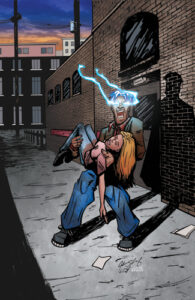 The name of the new Axiom-man episode novella is . . . *cue drumroll* . . . Underground Crusade. This is Episode No. 2 in the episode series and takes place after City of Ruin. To the left you can see the unlettered cover art. Like all the other covers, pencils and inks are by Justin Shauf, with colors by Kyle Zajac.
Stay tuned. Soon I will reveal the name of the next full length novel, which will be released at the same time as Underground Crusade.